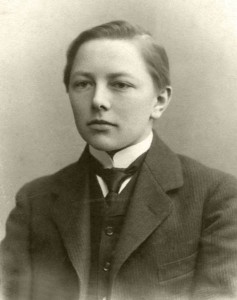 Antinii Vasulovych Florovskyi (1884-1968) a former professor of the department of IHD Russian history. He was one of the first leaders of the main library of the higher school (for 8 months before his administrative expulsion abroad in September 1922).
Florovskyi A. V. brilliantly graduated from historical and philological faculty of the Novorossiysk University (Department of historical sciences). In addition, since 1917 he has acted as an extraordinary professor in the Department of Russian history. He was a member of the Scientific and Charitable Societies: bibliography, History and Philology, History and Antiquities, the Slavic charity. In 1921, A. V. Florovskyi became director of the Odessa Public Library, and in 1922 – the director of the main library of the Odessa of the higher school (the former University). After the expulsion lived at first in Constantinople, Sofia, Belgrade, and then settled in Prague.
Scientific activity of A. V. Florovskyi is divided into two stages: Odessa (1910 – 1922) and Prague (1923 – 1968), each of which was characterized by the orientation of scientific research of the scientist. During the Odessa period, he studied problems of social history of Russia of modern times. During the Prague period, A. V. Florovskyi continued studying of former subject based on the materials brought by it from Russia, however paid special attention to questions of the historical bibliography and a historiography.