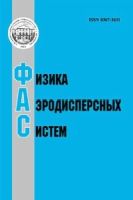 Established: 1969
Industry sector and problems: The results of studies of heat and mass transfer in disperse systems during the course of phase and chemical transformations, the mechanisms of formation of a dispersed phase are presented. The physics of combustion of various substances is analyzed, critical conditions of ignition and extinction are considered. Gas-dynamic phenomena that determine the processes of dispersal phase transfer are considered. The results of investigations of the electrophysics of disperse systems and nonlinear processes occurring in a smoke plasma are presented.
ISSN: 01367-1631
DOI: 10.18524/0367-1631
Certificate of state registration: KV №17442-6192 from 05.01.2011
Edition is included in the list of scientific professional publications of Ukraine: Physics and Mathematics since (06.11.2014)
Frequency of updates: annually
Founder and Publisher: Odesa I. I. Mechnikov National University
Chief Editor: DrSc (Physics and Mathematics) prof. V. V. Kalinchak
Editorial office: 65082, Odessa,  st.Dvoryanska, 2
E-mail: teplophys@onu.edu.ua
Website: http://fas.onu.edu.ua/
The journal is referenced and indexed in the following databases:  Repository at Odessa I. I. Mechnikov National University; «Scientific Periodicals Ukraine» Vernadsky National Library of Ukraine; Bibliographic Database «Ukrainika scientific»; Index Copernicus International Journals Master List; Google Scholar ; Base-search.
| | | | | | |
| --- | --- | --- | --- | --- | --- |
| 1996 | 1998 | 2001 | 2002 | 2003 | 2004 |
| | | | | | |
| 2005 | 2006 | 2007 | 2008 | 2009 | 2010 |
| | | | | | |
| 2011 | 2012 | 2013 | 2014 | 2015 | 2016 |
| | | | | | |
| 2017 |  2018 | 2019 | | | |
| | | | | | |